what is Jamie's favorite game show?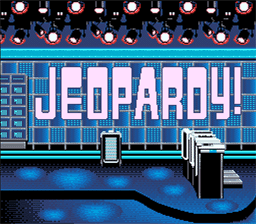 I don't think it should be a surprise to anyone who knows me (or reads my blog) that my all-time favorite game show is
Jeopardy!
(On a side note, Trebek, lay of the Botox. You look like an alien.) It also shouldn't surprise you that my favorite part of the year is
Celebrity Jeopardy
. (Or that Celebrity Jeopardy is still my
all-time favorite skit on SNL
. "Your answer? Threeeve. And you wagered? TEXAS.") I'm not going to lie - I partially like it because the questions are easier and it makes me feel intellectually superior to the actors. But still, it's like
Entertainment Weekly
meets
The Mensa Bulletin
- and trust me, if they melded into one big magazine, well, it would be the coolest magazine... ever. Remember when David Duchovny and Stephen King duked it out to the end? Awesome.
Well,
Celebrity Jeopardy
starts today, my friends, with not a stellar, but a pretty good
line-up
. Some will be there just for humor (Carson Kressley, Drew Lachey, Mario Cantone), but some I think are going to kick some ass and all I have to say is The US Secretary of Education?? She's probably got a leg up on the competition. And REGIS, former host of
Who Wants to be a Millionaire
? Well, that just seems like cheating. Others faves of mine include Jane Kaczmarek, Michael McKean, and Bebe Neuwirth. I'm so excited I could pee my pants.
Now onto my day, which includes homework, 5 loads of laundry, dusting, vaccumming, mopping, scrubbing the shower door, and of course, watching
Celebrity Jeopardy
.